TRADICIJA LJUDSKIH PESMI V GLASBI SODOBNIH POGREBNIH SLOVESTNOSTI
MANUSCRIPT SONGBOOKS: BETWEEN RELIGIOUS AND FOLK
DOI:
https://doi.org/10.3986/Traditio2019480205
Abstract
Po ugotovitvah terenske raziskave pogrebne glasbe v sodobni Sloveniji ostaja ljudska pesem glavna spremljevalka slovesa od pokojnih. Iz pisnih virov in pogovorov z glasbeniki, ki na pogrebih nastopajo več desetletij, izvemo, da je bila na pogrebih v preteklosti ljudska glasba v izvedbi moških pevskih skupin tradicionalna glasbena praksa. Terenska raziskava je pokazala, da se danes ta tradicija dopolnjuje z uporabo različnih zvrsti glasbe od klasične do popularne v izvedbi vokalnih ali inštrumentalnih skupin in solistov.
***
The field research of funeral music in today's Slovenia indicates that traditional songs are often employed to accompany the process of bidding farewell to a deceased person. From written sources and in conversations with musicians performing at funerals for decades, we find out that traditional music performed by male vocal groups was a traditional musical practice at funerals in the past. Field research revealed that this tradition is complemented by the use of various types of music from classical to popular, performed by vocal and instrumental soloists and groups.
Keywords
pogreb; pogrebna glasba; ljudska pesem; mrliška pesem; obred // funeral; funeral music; traditional song; funeral song; ritual
References
Brabec de Mori, Bernd. 2014. Rituals. V: William Forde Thompson (ur.), Music in the Social Behavioral Science: An Encyclopedia. Los Angeles: SAGE Publications, 965–969.
Brun, Neva in Marjan Remic (ur.). 1999. Tihi pomniki minljivega časa: Drobci o šegah slovesov in pokopališki kulturi v slovenskem etničnem prostoru. Ljubljana: Forma 7.
DeNora, Tia. 2000. Music in Everyday Life. Cambridge: Cambridge University Press.
Griffiths, Paul. 1992. Brève histoire de la musique moderne de Debussy à Boulez. Paris: Fayard.
Hampton, Barbara L. 1982. Music and Ritual Symbolism in the Ga Funeral. Yearbook for Traditional Music 14: 75–105.
Harnoncourt, Nikolaus. 2012. Toni so vzvišene besede: Pogovori o romantični glasbi. Ljubljana: Modrijan.
Hesmondhalgh, David. 2013. Why Music Matters. Chichester, West Sussex in Malden, MA: Wiley-Blackwell.
Hrovatin, Radoslav (ur.). 1953. Partizanska pesem. Ljubljana: Državna založba Slovenije.
Ketiš, Ivan. 2015. Živeti v Mariboru in sanjati o vesolju. Maribor: Kulturni center.
Klobčar, Marija. 2002. Štajerska slovesa – odsev družbene razslojenosti ali enakosti med ljudmi. Traditiones 31 (2): 7–22.
Kölbl, Marko. 2017. Burgenlandkroatische und kroatische Totenklagen. Doktorska disertacija. Wien: Institut für Volksmusikforschung und Ethnomusikologie.
Kumer, Zmaga. 1975. Uvod. V: Zmaga Kumer (ur.), Pesem slovenske dežele. Maribor: Obzorja, 19–127.
Kumer, Zmaga (ur.). 2003a. Ena urca bo príšla: Mrliške pesmi na Slovenskem. Ljubljana: Družina.
Kumer, Zmaga. 2003b. Mrliške pesmi na Slovenskem. V: Zmaga Kumer (ur.), Ena urca bo príšla: Mrliške pesmi na Slovenskem. Ljubljana: Družina, 9–26.
Makarovič, Marija. 1979. Medsebojna pomoč na vasi na Slovenskem. Muta: Gorenje.
Makarovič, Marija. 1982. Strojna in Strojanci: Narodopisna podoba koroške hribovske vasi. Ljubljana: Mladinska knjiga.
Makarovič, Marija. 1994. Sele in Selani: Narodopisna podoba ljudi in krajev pod Košuto. Celovec: Krščanska kulturna zveza in Inštitut Narodopisnega društva Urban Jamnik.
Merriam, Alan P. 2000 (1964). Antropologija glasbe. Ljubljana: Spekter.
Muršič, Rajko. 1993. Neubesedljive zvočne igre: Od filozofije k antropologiji glasbe. Maribor: Katedra.
Orel, Boris. 1944. Slovenski ljudski običaji. V: Rajko Ložar (ur.), Narodopisje Slovencev: I. del. Ljubljana: Klas, 263–349.
Oxfeld, Ellen. 2004. 'When You Drink Water, Think of Its Source': Morality, Status, and Reinvention in Rural Chinese Funerals. The Journal of Asian Studies 63 (4): 961–990. Dostopno na: http://www.jstor.org/stable/4133197
Pisk, Marjeta. 2018. Zbirke »mrtvečih pesmi«: Iz rokopisnih v tiskane zbirke ali obratno? V: Urška Perenič (idr., ur.), Starejši mediji slovenske književnosti: Rokopisi in tiski Ljubljana: Znanstvena založba Filozofske fakultete (Obdobja; 37), 25–32.
Pšajd, Jelka. 2017. Čez ta prag me bodo nesli, ko zatisnil bom oči: Smrtne šege in pogrebne prakse Pomurja in Porabja. Murska Sobota: Pomurski muzej Murska Sobota.
SI ZAL LJU 630. Zgodovinski arhiv Ljubljana, Komunalno podjetje Žale Ljubljana, TE 142, AE 727.
SSKJ. 1997. Slovar slovenskega knjižnega jezika. Ljubljana: Državna založba Slovenije.
Šivic, Urša. 2019. Mrtveče pesmi v porabsko-prekmurskem prostoru. Glasnik Slovenskega etnološkega društva 59 (1): 59–69.
Uršič - Kunej, Pavla (ur.). 1993. Lipa zelenela je. Ljubljana: Državna založba Slovenije.
Wong, Deborah. 1998. Mon Music for Thai Deaths: Ethnicity and Status in Thai Urban Funerals. Asian Folklore Studies 57: 99–130. DOI: https://doi.org/10.2307/1178999
Zlobec, Marijan. 2018a. Ivan Cankar kot lutka in paraplegik. https://marijanzlobec.wordpress.com/2018/06/18/ivan-cankar-kot-lutka-in-paraplegik/ (18. 6. 2018).
Zlobec, Marijan. 2018b. Ciril Zlobec je želel politiko požlahtniti, jo narediti plemenito kot poezijo. https://marijanzlobec.wordpress.com/2018/08/28/ciril-zlobec-je-zelel-politiko-pozlahtniti-jo-narediti-plemenito-kot-poezijo/ (28. 8. 2018).
DOI:
https://doi.org/10.3986/Traditio2019480205
Refbacks
There are currently no refbacks.
Copyright (c) 2019 Traditiones
This work is licensed under a
Creative Commons Attribution-NonCommercial-NoDerivatives 4.0 International License
.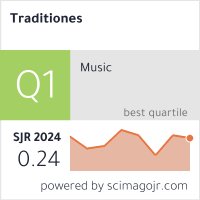 Save
Save
Save