THE LEGACY OF SINGER HAMDIJA ŠAHINPAŠIĆ IN BOSNIAC ORAL LITERARY TRADITION
DEDIŠČINA PEVCA HAMDIJE ŠAHINPAŠIĆA V BOSANSKEM USTNEM IZROČILU
DOI:
https://doi.org/10.3986/Traditio2005340119
Abstract
Hamdija Šahinpašić (1914–2003) was one of those rare individuals able to memorize songs in their authentic traditional form. Šahinpašić belonged to a family known for its songs. In the early 1950s, Miodrag A. Vasiljević recorded Šahinpašić singing dozens of songs at the Serbian Academy of Arts and Sciences in Belgrade. A 1967 publication finally included 300 of his songs, published bilingually in Bosnian and Russian. Šahinpašić himself became the focus of attention of numerous ethnomusicologists and folklorists and his repertoire was preserved on recordings of good quality.
***

Hamdija Šahinpašić (1914-2003) je bil eden redkih posameznikov, ki so si sposobni zapomniti pesmi v njihovi avtentični tradicionalni obliki. Šahinpašić je pripadal znani pevski družini. Miodrag A. Vasiljević je v začetku petdesetih let 20. stol. v prostorih Srbske akademije znanosti in umetnosti posnel številne pesmi, ki jih je pel Šahinpašić. V dvojezično bosansko-rusko izdajo je leta 1967 vključil 300 njegovih pesmi. Sam Šahinpašić je postal središče zanimanja številnih etnomuzikologov in folkloristov, tako da je njegov repertoar ohranjen na kvalitetnih posnetkih.
Keywords
Hamdija Šahinpašić; legacy // Hamdija Šahinpašić; zapuščina
References
Bašagić, Safvet-beg. 1986 [1931]. Znameniti Hrvati, Bošnjaci i Hercegovci u Turskoj carevini (Famous Croats, Bosnians, and Herzegovinians in the Ottoman Empire). Izabrana djela vol. III, Sarajevo.
Bejtić, Alija. 1953. Prilozi proučavanju naših narodnih pjesama (Contributions to the Study of Our Folk Songs). In: Bilten Instituta za pročavanje folklora Sarajeva 2.
Gesemann, Gerhard. 1925. Erlangenski rukopis starih srpskohrvatskih narodnih pjesama (The Erlangen Manuscript of Old Serbo-Croatian Folk Songs). Sremski Karlovci.
Kurt, Mehmed Dželaludin. 1902. Hrvatske narodne ženske pjesme (muslimanske) (Croatian Women's Folk Songs (Muslim)). Mostar.
Vasiljević, Miodrag. 1967. Jugoslovenske narodne pesme iz Sandžaka. Zapisano od narodnog pevača Hamdije Šahinpašića (Yugoslav Folk Songs from the Sanjak. Transcribed from the Folk Singer Hamdija Šahinpašić). Moscow.
DOI:
https://doi.org/10.3986/Traditio2005340119
Refbacks
There are currently no refbacks.
Copyright (c) 2019 Traditiones
This work is licensed under a
Creative Commons Attribution-NonCommercial-NoDerivatives 4.0 International License
.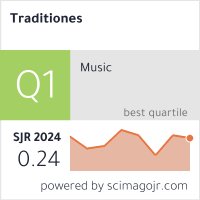 Save
Save
Save