FORMATION OF RUSSIAN ETHNOGRAPHY (1750–1850)
OBLIKOVANJE RUSKE ETNOGRAFIJE (1750–1850)
DOI:
https://doi.org/10.3986/Traditio2011400208
Abstract
The author explains how Russian ethnography was created in the second half of the 18th century and the first half of the 19th century. She divides this time-span into shorter periods. In each of these periods she presents crucial events that left an important mark on ethnographic works (e.g. research expeditions) as well as outstanding individuals who influenced the development of ethnographic science in Russia.
***

Avtorica v prispevku pojasni, kako se je ruska etnografija oblikovala v drugi polovici 18. stoletja in prvi polovici 19. stoletja, pri čemer ta časovni razpon razdeli na več krajših obdobij. Predstavi bistvene dogodke, ki so zaznamovali etnografska dela (npr. raziskovalne odprave), in posameznike, ki so s svojimi deli vplivali na razvoj vede v Rusiji.
Keywords
Russia; ethnography; historical overview; 18th century; 19th century; research expeditions // Rusija; etnografija; zgodovinski pregled; 18. stoletje; 19. stoletje; raziskovalne ekspedicije
References
Andreev, Aleksandr I. (ed.). 1948. Polnoe sobranie Russkie otkrytiya v Tikhom okeane i Severnoy Amerike v XVIII v (Russian Discoveries in the Pacific Ocean and North America in the Eighteenth Century). Moskva: Geografgiz.
Andreev, Andrei Yu. 2000. "Gettingenskaya dusha" Moskovskogo universiteta Iz istorii nauchnykh vzaimosvyazey Moskvy i Gettingena v nachale stoletiya Voprosy istorii yestestvoznaniya i tekhniki. N 2 ("Gottingen Soul" of Moscow University. From the History of Scientific Relations between Moscow and Gottingen at the Beginning of the Nineteenth Century. Questions Concerning the History of Natural Sciences and Engineering. N 2). Moskva: Nauka.
Anikin, Vladimir P. 1996. Teoriya fol'klora. Kurs lektsiy (Theory of Folklore: A Series of Lectures). Moskva: KDU.
Azadovsky, Mark K. 1958–1963. Istoriya russkoy fol'kloristiki: V 2-h t (The History of Russian Folklore Studies: In Two Volumes). Moskva: Nauka.
Gaim, R. (Heym, Rudolf ). 1888. Gerder yego zhizn' i sochineniya. I–II. (Herder, His Life and Works. Vol. I, II.). Izdanie K. T. Soldatenkova Tip-ya V. F. Rikhter. Moskva.
Georgi, Johann G. 1776–1777. Opisanie vsekh v Rossiyskom gosudarstve obitayushchikh narodov Takzhe ikh zhiteyskikh obryadov ver obyknoveniy zhilishch odezhd i prochikh dostopamyatnostey. Ch. 1–4 (A Description of All the Peoples Living in the Russian State, also Their Worldly Rites, Religions, Habits, Houses, Clothes and Other Memorablenesses. Part 1–4). Sankt Peterburg.
Herder, Johann G. 1803. Outlines of a philosophy of the history of man. Tr. from the German of John Godfrey Herder by T. Churchill. Printed by Luke Hansard for J. Johnson.
Herder, Johann G. 1829. Mysli otnosyashchiesya k filosofskoy istorii chelovechestva po razumeniyu i nachertaniyu Gerdera. Russkiy perevod (Thoughts Relating to the Philosophical History of Humanity in Herder's Opinion and Writing: Russian Translation). Sankt Peterburg.
Herder, Johann G. 1959. Izbrannye sochineniya (Selected Works). Moscow, Leningrad: Gosudarstvennoe izdateljstvo hudozhestvennoi literaturi.
Lomonosov, Mikhail V. 1950–1983. Polnoe sobranie sochinenii (Complete Edition). Moscow, Leningrad: Akademiia nauk SSSR.
Putilov, Boris N. 1994. Fol'klor i narodnaya kul'tura (Folklore and Folk Culture). Sankt Peterburg: Кnizhni dom »Universitet«.
Snegirev, Ivan. 1837–1839. Russkie prostonarodnye prazdniki i sueveriya. Vyp. 1–4. (The Common Holidays of Russians and Superstitions. Ed. 1–4). Moskva: Universitetskaja tipografija.
Tokarev, Sergei A. 1966. Istoriya russkoy etnografii (A History of Russian Ethnography). Moskva: Nauka.
Tokarev, Sergei A. 1978. Istoki etnograficheskoy nauki (Origins of Ethnographic Science). Moskva: Nauka.
DOI:
https://doi.org/10.3986/Traditio2011400208
Refbacks
There are currently no refbacks.
Copyright (c) 2019 Traditiones
This work is licensed under a
Creative Commons Attribution-NonCommercial-NoDerivatives 4.0 International License
.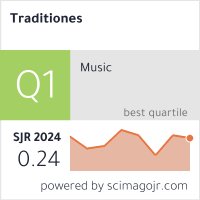 Save
Save
Save