THE PROBLEM OF PERFORMANCE TYPOLOGY: THE CASE OF SERBIAN MOURNERS
VPRAŠANJE TIPOLOGIJE IZVAJANJA. PRIMER SRBSKIH NARICALK
DOI:
https://doi.org/10.3986/Traditio2012410108
Abstract
This paper analyzes the performance process of Serbian mourning songs (tužbalice) and various ethnic and folklore conditions of the functional process of this genre.
***

V prispevku avtorica analizira postopke izvajanja srbskih žalostink (tužbalice) glede na različne etnične in folklorne okoliščine funkcionalnega procesa v tem žanru kot tudi glavnih značilnosti žanra.
Keywords
mourning songs; performance; ritual folklore; epic tradition // naricalke; uprizoritev; ritual; epska tradicija
References
Britsyna, Oleksandra. 2006. Ukrayinska usna tradycijna proza. Pytannya tekstolohiyi ta vykonavstva. Kyyiv: NAN Ukrayiny, In-t mystectvoznavstva, fol"klorystyky ta etnolohiyi im.M.T. Ryl"s"koho.
Đоrđеvić, Тihomir. 1938. Nekoliki samrtni običaji u Južnih Slovena. Godišnjica Nikole Čunića. Knj. 47: 153–191.
Каradžić, Vuk St. 1977. Crna Gora i Boka Kotorska. Beograd: Novo pokolenje.
Kharitonova, Vаlentina. 1987. Vostochnoslavjanskaja prichet' i ee ispolniteli. Fol'klor narodov RSFSR. Ufa: Izd. Bashkirskogo gos. un-ta, 139–148.
Kilibarda, Novak. 1980. Na marginama poetike narodnih tužbalica. Zora govora: Ка poetici usmenog pesništva. Niš: Gradina, 92–104.
Murko, Matija. 1951. Tragom srpsko-hrvatske narodne epike: putovanja u godinama 1930-1932. Zagreb: JAZU. Knj. 1.
Nedeljković, Dušan. 1967. Tužbalica za sinom јedincem. Od guslara narodnog pesnika Milutina Vukovića sa Šćepan-rolja zabeležio dr. Dušan Nedeljković. Narodno stvaralaštvo-Folklor 6(22-24): 189–195.
Pešić, Radmila. 1967. Vuk Vrčević. Filološki fakulet Beogradskog univerziteta. Knj.14.
Propp, Vladimir. 1964. Zhanrovyj sostav russkogo fol'klora. Russkaja literatura. № 4, 58-76.
Šaulić, Novica. 1929. Predgovor. Srpske narodne tužbalice. Beograd: Grafički institut.
Vukanović, Tatomir. 1972. Narodne tužbalice. Folklorna gradja sabrana u Srba poreklom iz Crne Gore na Kosovu u Kosanucu. Vranje: Narodni muzej.
Zlatanović, Milivoje. 1999. Тužbalica u Južnoj Srbiji. Etno-kulturološki zb. za proučavanje kulture istočne Srbije i susednih oblasti. Svrljig. Knj. 5: 103–107.
DOI:
https://doi.org/10.3986/Traditio2012410108
Refbacks
There are currently no refbacks.
Copyright (c) 2019 Traditiones
This work is licensed under a
Creative Commons Attribution-NonCommercial-NoDerivatives 4.0 International License
.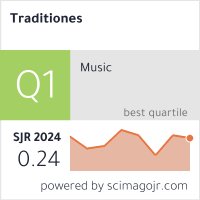 Save
Save
Save