CREATORS, RESEARCHERS AND USERS OF INTANGIBLE CULTURAL HERITAGE IN THE LIGHT OF THE NATIONAL LIST OF LIVING CULTURAL HERITAGE
USTVARJALCI, RAZISKOVALCI IN UPORABNIKI NESNOVNE KULTURNE DEDIŠČINE V LUČI DRŽAVNEGA SEZNAMA ŽIVE KULTURNE DEDIŠČINE
DOI:
https://doi.org/10.3986/Traditio2012410213
Abstract
The drafting of the national list of intangible cultural heritage is a great challenge for the ethnological methodology for the study of cultural heritage. The author focuses on the significance of the triangle that links creators, researchers and users of cultural heritage; this can aid in the redefinition of the role of cultural heritage in science and in society.
***

Izdelava nacionalnega seznama nesnovne kulturne dediščine je velik izziv za etnološko metodologijo preučevanja kulturne dediščine. Avtor usmerja pozornost na pomen trikotnika, ki povezuje ustvarjalce, raziskovalce in uporabnike kulturne dediščine; ta lahko na novo definira vlogo kulturne dediščine v znanosti in v družbi.
Keywords
intangible cultural heritage; ethnology; UNESCO Convention on the Safeguarding of ICH; system of intangible culture // nesnovna kulturna dediščina; etnologija; Unescova Konvencija o varovanju NKD; sistem nesnovne dediščine
DOI:
https://doi.org/10.3986/Traditio2012410213
Refbacks
There are currently no refbacks.
Copyright (c) 2019 Traditiones
This work is licensed under a
Creative Commons Attribution-NonCommercial-NoDerivatives 4.0 International License
.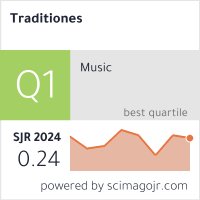 Save
Save
Save