NACIONALNI PARK MLJET. IZAZOV KONFLIKTNIH INTERPRETACIJA
MLJET NATIONAL PARK: THE CHALLENGE OF CONFLICTING INTERPRETATIONS
DOI:
https://doi.org/10.3986/Traditio2013420208
Abstract
V prispevku so zarisani razločki med prebivalci parka in Upravo pri zamišljanju namena in funkcij Narodnega parka Mljet. Razločki so večinoma povezani z različno usmerjenimi interesi, potencialni vzroki za spore pa izvirajo iz prepovedi in pravnih predpisov, ki jih uveljavljajo v parku. Restriktivni zakonu v parku zdaj opazno krčijo stoletja staro izročilo ribištva in ob tem je pomembno vprašanje, kako pomiriti interese lokalne skupnosti s poslanstvom parka, da varuje dediščino in naravo.
***

This paper outlines the differences between park residents and management in visualizing the purpose and function of Mljet National Park. These differences are mainly due to their distinctly oriented interests, and potential causes of conflict emerge from prohibitions and legislative acts imposed by the park. The centuries-old tradition of fishing is now greatly reduced by the park's restrictive laws and questions are being raised about how to reconcile the interests of local community with the park's mission of heritage and nature protection.
Keywords
Mljet; narodni park; spor; dediščina // Mljet; national park; conflict; heritage
References
Allendorf, Teri D., Myint Aung i Melissa Songer. 2012. Using Residents' Perceptions to improve Park-People Relationships in Chatthin Wildlife Sanctuary, Myanmar. Journal of Environmental Management 99, 36–43. DOI: http://dx.doi.org/10.1016/j.jenvman.2012.01.004
Bajuk Senčar, Tatiana. 2012. Natural and Cultural Heritage Practices in Triglav National Park. Traditiones 41 (2): 53–64. DOI: http://dx.doi.org/10.3986/Traditio2012410204
Esprit, Cory St. i Langdon Smith. 2011. The Green State Park Iniative: Utilizing Pennsylvania State Parks as a Case Study. Journal of Park and Recreation Administration 29 (3): 86–100.
IUCN Protected Areas Categories System. 2013. IUCN Protected Areas Categories System. http://www.iucn.org/about/work/programmes/gpap_home/gpap_quality/gpap_pacategories/
Lukić-Krstanović, Miroslava. 2012. Management and Production of Intangible Cultural Heritage in Serbia. Traditiones 41 (2): 227–241. DOI: http://dx.doi.org/10.3986/Traditio201241020417
More, Thomas A., Bernardo Urdaneta i Thomas H. Stevens. 2008. Shifting National Park Policies and Local People: A Case Study of Acadia National Park. Journal of Park and Recreation Administration 26/4: 105-125.
Nacionalni park Mljet. 2013. http://www.np-mljet.hr/
Nagendra, Harini, Duccio Rocchini i Rucha Ghate. 2010. Beyond Parks as Monoliths: Spatially differentiating Park-People Relationships in the Tadoba Andhari Tiger Reserve in India. Biological Conservation 143: 2900–2908. DOI: http://dx.doi.org/10.1016/j.biocon.2010.04.050
Nodilo, Marija. 2011. Vrt u benediktinskom samostanu Sv. Marije na Mljetu. Šumarski list 3–4: 153–160.
Odluka. 1992. Odluka o osnivanju Javnoga poduzeća Uprava nacionalnoga parka Mljet. Narodne novine 14.
Perković, Marin. 2010. Mljet, 1960. – 2010. Nacionalni park. Zagreb: Javna ustanova Nacionalni park Mljet.
Pravilnik. 2000. Pravilnik o unutarnjem redu u Nacionalnom parku Mljet. Narodne novine 15.
Prostorni. 2001. Prostorni plan Nacionalnoga parka Mljet. Narodne novine 23.
Simonič, Peter. 2012. Heritage, Development and Nature: The Purpose of Anthropology of Protected Areas. Studia ethnologica Croatica 24: 131–146.
Slavec Gradišnik, Ingrid. 2012. Introduction. Traditiones 41 (2): 5–8. DOI: http://dx.doi.org/10.3986/Traditio2012410200
UNESCO. 2002. World Heritage in Young Hands.
Vail, Benjamin J. 2001. Tourists are Invading Our District. Social and Ecological Conflicts in a Norwegian National Park. Scandinavian Studies 73 (4): 547–574.
Yasmi, Yurdi i Carol J. Pierce Colfer. 2010. Forestry and Fishery Conflict in Danau Sentarum: Application of an Impairment Approach. Borneo Research Bulletin 41: 145–161.
Zhou, D.Q. i R. Edward Grumbine. 2011. National Parks in China: Experiments with protecting Nature and Human Livelihoods in Yunnan Province, Peoples' Republic of China (PRC). Biological Conservation 144: 1314–1321. DOI: http://dx.doi.org/10.1016/j.biocon.2011.01.002
Zurc, Jana i Andrej Udovč. 2009. Local Inhabitants' Opinion about the Triglav National Park Management. Sociologija i prostor 183 (1): 43–56.
DOI:
https://doi.org/10.3986/Traditio2013420208
Refbacks
There are currently no refbacks.
Copyright (c) 2019 Traditiones
This work is licensed under a
Creative Commons Attribution-NonCommercial-NoDerivatives 4.0 International License
.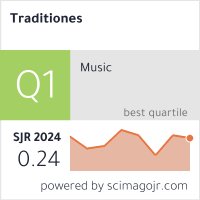 Save
Save
Save