THE SENSES, THE PATH, AND THE BUS. A SENSORY ETHNOGRAPHY OF THE SAIGOKU PILGRIMAGE
ČUTI, POT IN AVTOBUS. ETNOGRAFIJA ČUTOV PRI ROMANJU SAIGOKU
DOI:
https://doi.org/10.3986/Traditio2007360107
Abstract
This paper describes and analyzes the Saigoku pilgrimage in contemporary Japan from the point of view of the senses. The description of the most common sensescapes that pilgrims encounter and produce follows a general presentation of the pilgrimage and its broader context. The subsequent analysis of the modes of production and consumption of the sensescapes reveals the formation of similarly patterned clusters of perceptions around similar socio-cultural, behavioral, and environmental factors.
***

V razpravi je opisano in s stališča čutov analizirano romanje Saigoku (»romanje v zahodne province«) v sodobni Japonski. Opisu najpogostejših čutnih pokrajin, s katerimi se romarji srečajo in jih proizvedejo, sledi splošna predstavitev romanja v širšem kontekstu. Na tem temelječa analiza načinov produkcije in rabe čutnih pokrajin razkrije oblikovanje podobno vzorčenih skupkov percepcij ob podobnih družbenokulturnih, vedenjskih in okoljskih dejavnikih.
Keywords
pilgrimage; Saigoku; senses; Japan // romanje; Saigoku; čuti; Japonska
References
Bendix, Regina. 2005. Introduction. Ear to Ear, Nose to Nose, Skin to Skin. The Senses in Comparative Ethnographic Perspective. Etnofoor 18 (1): 3–14.
Bhardwaj, Surinder. 1973. Hindu Places of Pilgrimage in India. A Study in Cultural Geography. Berkeley: University of California Press.
Blacker, Carmen. 2000. The Religious Traveller in Edo Period. In: Blacker, Carmen (ed.), Collective Writings of Carmen Blacker. Tokyo: Japan Library and Editions Synapse, 163–176.
Cohen, Erik. 1992. Pilgrimage and Tourism. Convergence and Divergence. In: Morinis, Alan (ed.), Journeys to Sacred Places. Westport: Greenwood Press.
Coleman, Simon and John Eade. 2004. Reframing Pilgrimage. Cultures in Motion. London and New York: Routledge.
Foard, James. 1982. The Boundaries of Compassion. Buddhist and the National Tradition of Japanese Pilgrimage. Journal of Asian Studies 41 (2): 231–251. DOI: http://dx.doi.org/10.2307/2054941
Formanek, S. 1998. Pilgrimage in the Edo Period. Forerunner of Modern Domestic Tourism? The Example of the Pilgrimage to Mt. Tateyama. In: Fruestueck, S. and S. Linhart (eds), The Culture of Japan as seen through its Leisure. Albany: State University of New York Press.
Gorai, Shigeru. 1989. Yugyō to junrei [Wandering and pilgrimages]. Tōkyō: Kadokawa shōten.
Graburn, Nelson. 1983. To Pray, Pay and Play. The Cultural Structure of Japanese Tourism. Aix-en-Provence: Centre des Hautes Etudes Touristiques.
Graburn, Nelson. 1995. The Past and the Present in Japan. Nostalgia and Neo-Traditionalism in Contemporary Japanese Domestic Tourism. In: Butler, Richard and Douglas Pierce (eds.), Change in Tourism. People, Places, Processes. London and New York: Routledge, 47–70.
Gump, Steven H. 2005. Mythologies and Miracles. The Saikoku Kannon Peregrinogenesis. Southeast Review of Asian Studies 27: 102–115.
Harich-Schneider, Eta. 1973. A history of Japanese music. London: Oxford University Press.
Hayami, Tasuku. 1970. Kannon shinkō [The Kannon beliefs]. Tōkyō: Hanawa Shobō.
Henro Michi Hozon Ryōkai (ed.). 2004. Senhyaku kiro, gojūsan nichi kan, kokoro no tabi. Shikoku hachijūhakka-sho wo aruku [One thousand hundred kilometers, fifty three days, a trip of the heart. Walking the eighty-eight (sacred) places of Shikoku]. Ōsaka: Yama to keikoku-sha.
Hiro, Sachiya. 2000. Jibun ga kawaru. Henro no kokoro [Changing the self. The heart of the henro]. Tōkyō: kaisha sekai bunkasha.
Hoshino, Eiki. 1997. Pilgrimage and Peregrinations. Contextualizing the Saikoku Junrei and the Shikoku Henro. Japanese Journal of Religious Studies 24 (3–4): 271–299.
Kitagawa, Joseph. 1987. Three Types of Pilgrimages in Japan. In: Joseph Kitagawa (ed.), On Understanding Japanese Religion. Princeton: Princeton UP, 127–136.
Leavell, James and Ian Reader. 1988. Research Report on the Saikoku Pilgrimage. Studies in Central and East Asian Religion 1 (1): 116–118.
Mac Williams, Mark W. 1990. Kannon Engi. The reijō and the concept of kechien as strategies of indigenization in Buddhist sacred narrative. The Transactions of the Asiatic Society of Japan (4th series) 5: 53–70.
Mac Williams, Mark W. 1997. Temple Myths and the Popularization of Kannon Pilgrimage in Japan. A Case Study of Oya-ji on the Bandō Route. Japanese Journal Religious Studies 24 (3–4): 375–409.
Maeda, Takashi. 1971. Junrei no shakaigaku [Sociology of pilgrimages]. Kyōto: Mineruba Shobō.
Moerman, David. 1997. The Ideology of Landscape and the Theatre of State. Insei Pilgrimage to Kumano (1090–1220). Japanese Journal Religious Studies 24 (3–4): 347–374.
Nakao, Takeshi (ed.). 1973. Koji junrei jiten [Compendium of pilgrimages to ancient temples]. Tōkyō: Tōkyōdō shuppan.
Ōji, Naoya. 2001. Junrei gaido bukku [Guide-book to pilgrimages]. Kyōto: Tankōsha.
Raveri, Massimo. 1992. Il corpo e il paradiso. Venezia: Marsilio.
Reader, Ian. 1988. Miniaturization and Proliferation. A Study of Small-Scale Pilgrimages in Japan. Studies in Central and East Asian Religions 1 (1): 50–66.
Reader, Ian. 1997. Editors' Introduction. Pilgrimage in the Japanese Religious Tradition. Japanese Journal Religious Studies 24 (3–4): 225–270.
Reader, Ian. 2006. Meaning and Practice in Shikoku. Honolulu: University of Hawai Press.
Reader, Ian and Paul Swanson. 1987. From Asceticism to the Package Tour. The Pilgrim's Progress in Japan. Religion 17 (2): 133–148. DOI: http://dx.doi.org/10.1016/0048-721X%2887%2990053-4
Reader, Ian and George Tanabe. 1998. Pratically Religious. Honolulu: University of Hawaii Press.
Saigoku aizen reijō, Kai (ed.). 1994. Saigoku aizen reijō junrei. Hōwa to fudasho annai [The Pilgrimage to the Sacred Places of Aizen in the Western Provinces. A Guidebook to the fuda-sho and the Buddhist Sermons]. Ōsaka: Toki shobō.
Satō, Hisemitsu. 1989. Gendai no junrei. Saigoku junrei ni tsuite [Contemporary Pilgrimages. About the Saigoku Pilgrimage]. In: Takashi, Maeda (ed.), Kazoku shakaigaku nōto [Notes on Sociology of the Family]. Kyōto: Kansai daigaku, 183–222.
Seremetakis, Nadia. 1994. The Memory of the Senses. Historical, Perception, Commensal Exchange and Modernity. In: Taylor, Lucien (ed.), Visualizing Theory. New York: Routledge, 214–229.
Shimizutani, Kōshō. 1992. Junrei to goeika [Pilgrimages and goeika Songs]. Ōsaka: Toki Shobō.
Shinjō, Tsunezō. 1982. Shaji sankei keizaishiteki kenkyū [Historical and Economical Study of Pilgrimages to Temples and Shrines]. Tokyo: Hanawa shobō.
Shinno,Toshikazu. 1980. Tabi no naka no shūkyō [Religion inside Travel]. Tokyo: NHK Books.
Shinno,Toshikazu (ed.). 1996. Kōza Nihon no junrei [Lectures on Japanese Pilgrimages]. Tokyo: Yūzankaku, vol. 1–3.
Shiraki, Toshiyuki. 1995. Shichifukujin junpai [Pilgrimages of the Seven Gods of Good Luck]. Kōhyō no Junpai annaiki shirizu. Ōsaka: Toki shobō.
Shirasu, Masako. 1974. Saigoku junrei [The Saigoku Pilgrimage]. Kyōto: Shinshindō shuppan.
Shōbusnha (ed.). 2000. Saigoku sanjūsan ka sho meguri [The Saigoku Pilgrimage of the thirty-three (Kannon) Sites]. Tōkyō: Shōbunsha.
Smith, Valene L. 1992. The Quest in Guest. Annals of Tourism Research 19: 1–17. DOI: http://dx.doi.org/10.1016/0160-7383%2892%2990103-V
Tani, Toshio. 2002. Zukai – Butsuzō ga wakaru jiten [Illustrations – Dictionary to understand the Images of Bouddha]. Tōkyō and Ōsaka: Nihon jitsugyō shuppansha.
Urbain, Jean-Didier. 1991. L'idiot du voyage. Histoires de touristes. Paris: Plon.
West-Japan Rail (ed.). 2005. Saigoku sanjūsan-sho junrei no tabi. Eki kara hajimaru, kokoro no michi shirube [Travelling the Pilgrimage of Saigoku. Starting from the Station, a Guide-book to the Path of the Heart]. Ōsaka: West-Japan Rail Publ.
Zenkoku reijō daijiten Hensanshitsu (ed.). 2000. Zenkoku reijō daijiten [Great Compendium to the Country's Pilgrimages]. Tōkyō: Rokugatsu shobō.
DOI:
https://doi.org/10.3986/Traditio2007360107
Refbacks
There are currently no refbacks.
Copyright (c) 2019 Traditiones
This work is licensed under a
Creative Commons Attribution-NonCommercial-NoDerivatives 4.0 International License
.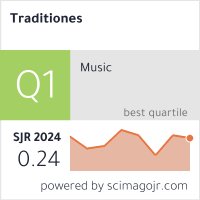 Save
Save
Save