LJUDSKI PESNIK IN PRIPOVEDNIK MIRKO BENEDEJČIČ. IZ ŽIVE LJUDSKE GOVORICE (PESMI, PRAVLJICE, PRIPOVEDI)
Abstract
Predstavljen je Mirko Benedejčič (1927–2003), vaški posebnež, igralec vaškega odra, pesnik in pravljičar. Njegove pesmi, ki jih je zapisoval tudi na vrata planinskega »stana« vsako leto znova, slavijo srečne trenutke sredi narave, zlitje z njo, ki mu pomeni uresničenje vsega lepega in dobrega. Kot pripovedovalec in oblikovalec pravljic je znal pritegniti pozornost vaške mladeži v planini in doma.
***

Mirko Benedejčič (1927–2003), a village original, a dramatic interpreteur of the village stage, a poet and a story teller. He wrote his songs also onto the wooden door of the high-mountain pasture, every summer. They value happy moments with nature, combining with it, which was his greatest goal, value and happiness. As a story teller was attracting attention of village youth at home and while in the pastures.
Keywords
Mirko Benedejčič; ljudski pesnik; pravljičar; pesmi; pravljice // Mirko Benedejčič; folklore poet; story teller; songs; fairy tales
Refbacks
There are currently no refbacks.
Copyright (c) 2019 Traditiones
This work is licensed under a
Creative Commons Attribution-NonCommercial-NoDerivatives 4.0 International License
.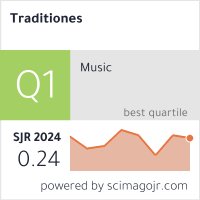 Save
Save
Save