ETNOGRAFSKI FILM V SLOVENIJI IN V SRBIJI. ORIS REZULTATOV PROJEKTNE NALOGE
ETHNOGRAPHIC FILM IN SLOVENIA AND SERBIA: OUTLINE OF PROJECT RESULTS
DOI:
https://doi.org/10.3986/Traditio2010390105
Abstract
V času Socialistične federativne republike Jugoslavije so bila med njenimi nacionalnimi etnologijami v navadi redna srečevanja in razprave. Ko so bili tovrstni stiki zaradi razpada države prekinjeni, je bilo prekinjeno tudi medsebojno informiranje o stanju na področju etnografskega filma. Medtem je prišlo do hitrega razvoja in velikih sprememb v etnografskem filmu in vizualni antropologiji v celoti. Zato se avtor članka v sklepu osredinja predvsem na premislek o oblikah sodobne vizualne etnografije, ki še najbolj ustreza znanstveno raziskovalnim praksam obeh etnoloških inštitutov (pri ZRC SAZU v Ljubljani in SANU v Beogradu), in o ustreznem izobraževanju za to področje.
***

Within Yugoslavia, regular conferences and discussions used to take place between ethnologists working in the various Yugoslav republics. When Yugoslavia collapsed and these contacts were interrupted, information about developments in ethnographic film also stopped being exchanged. Meanwhile, rapid development and great changes took place in ethnographic film and visual anthropology as a whole. This article therefore primarily focuses on the reflection of forms of contemporary visual ethnography, which largely corresponds with the research practices of the ethnology institutions in Ljubljana and Belgrade (ZRC SAZU and SANU, respectively), and suitable education in ethnology.
Keywords
etnografski film; vizualna etnografija; izobraževanje; Srbija; Slovenija // ethnographic film; visual ethnography; education; Serbia; Slovenia
References
Drljača, Dušan. 1972. Jugoslovanski dokumentarni film z etnološko tematiko. Slovenski etnograf 23–24: 105–112.
France, Claudine de. 1989. Cinéma et antropologie. Paris: Édition de la Maison des sciences de l'homme.
Glasnik SED. 2009. Glasnik SED 49 (1–2): 122–131.
Jablonko, Allison. 2003. Čas in vizualni zapisi. Glasnik SED 43 (1–2): 103–105.
Križnar, Naško. 1982. Slovenski etnološki film. Filmografija 1905-1980. Ljubljana: Slovenski gledališki in filmski muzej: Nova Gorica: Goriški muzej.
Križnar, Naško. 2007a. Perspektive za edukaciju u vizuelnoj antropologiji. V: Katalog 16. međunarodnog festivala etnološkog filma. Beograd: Etnografski muzej u Beogradu, 10–11.
Križnar, Naško. 2007b. Dnevnik namesto poročila. Beograjski festival etnološkega filma, Etnografski festival v Beogradu, 1.– 5. november 2006. Glasnik SED 47 (1–2): 88–91.
Križnar, Naško (ur.). 2007. Dnevi etnografskega filma. Ljubljana: Slovensko etnološko društvo, 12–13.
Postma, Metje. 2003. Učna podlaga šole vizualnega v Novi Gorici. Glasnik SED 43 (1–2): 106–113.
DOI:
https://doi.org/10.3986/Traditio2010390105
Refbacks
There are currently no refbacks.
Copyright (c) 2019 Traditiones
This work is licensed under a
Creative Commons Attribution-NonCommercial-NoDerivatives 4.0 International License
.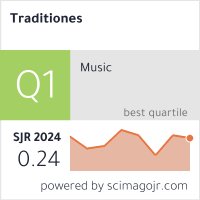 Save
Save
Save