BULGARIAN FOLKLORE STUDIES AND THE FORMATION OF NATIONAL IDENTITY AND CULTURE. THE CONTRIBUTION OF GEORGI SAVA RAKOVSKI
BOLGARSKA FOLKLORISTIKA IN OBLIKOVANJE NARODNE IDENTITETE IN KULTURE. VLOGA G. S. RAKOVSKEGA
DOI:
https://doi.org/10.3986/Traditio2011400207
Abstract
This article presents the work of Georgi Sava Rakovski (1821–1867), one of the most outstanding, well-rounded, and interesting personalities of the Bulgarian Revival. It examines his ideas about the origin and specific character of the Bulgarian people and folklore as a resource for the beginnings of ethnic history. Special attention is dedicated to the role of this man of letters in the establishment of folklore studies in Bulgaria and his contribution to shaping standard Bulgarian and introducing comparative studies in Bulgaria.
***

V članku je predstavljeno delo Georgija Save Rakovskega (1821–1867), ki velja za najbolj izjemno, celovito in zanimivo osebnost bolgarskega narodnega prebujenja. V članku so raziskane njegove zamisli o izviru in svojevrstnem značaju Bolgarov, folklora je predstavljena kot temelj narodne zgodovine. Posebna pozornost je namenjena vlogi pisatelja in znanstvenika pri oblikovanju bolgarske folkloristike in ustvarjanju bolgarskega knjižnega jezika ter uvajanju primerjalnih raziskav v Bolgariji.
Keywords
narodouka (ethnology); folk culture; ethnic history; national character; national culture; national identity // narodouka (narodoslovje); ljudska kultura; etnična zgodovina; narodni značaj; narodna kultura; narodna identiteta
References
Arnaudov, Mikhail. 1968. Rakovski kato folklorist. V: Ocherci po b'lgarskiya folklor. T. 1. [Rakovski as a Scholar of Folklore. In: Articles in Bulgarian Folklore. Vol. 1]. Sofia, B'lgarski pisatel: 235-301.
Genchev, Stoyan. 1988. Georgi Rakovski i izsledvaneto na b'lgarskata narodna kultura. – In: Rakovski, G. S., 1988, 477–500.
Rakovski, Georgi Stoykov. 1988. S'chineniya v chetiri toma. T. 4. Ezikoznanie. Etnografiya. Folklor [Works in Four Volumes. Vol. 4. Linguistics. Ethnography. Folklore]. Sofiya: B'lgarski pisatel.
Zherev, Stoyan. 1988. G. S. Rakovski i b'lgarskiyat knizhoven ezik ot sredata na XIX vek. In: Rakovski 1988, 500-515.
Zhivkov, Todor Ivanov. 1981. Folklor i s"vremennost. Sofiya: Nauka i izkustvo [Folklore and Modernity]. Sofia: Nauka I Izkustvo [Publishing House].
Zhivkov, Todor Ivanov. 1987. Etnokulturno edinstvo i folklor [Ethnocultural Unity and Folklore]. Sofiya: Nauka i izkustvo.
Zhivkov, Todor Ivanov. 1999. Do sledvashtata zapetaya... [Up To the Next Comma…]. Sofiya: IK "Hristo Botev.
Zhivkov, Todor Ivanov. 2000. Uvod v etnologiyata [Introduction to Ethnology]. Plovdiv: Plovdivsko universitetsko izdatelstvo.
DOI:
https://doi.org/10.3986/Traditio2011400207
Refbacks
There are currently no refbacks.
Copyright (c) 2019 Traditiones
This work is licensed under a
Creative Commons Attribution-NonCommercial-NoDerivatives 4.0 International License
.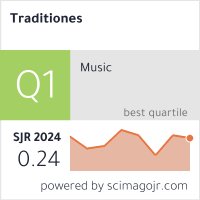 Save
Save
Save